You are here: Home | News, Events & Advice | BMW B58 X37 turbo and MAXD mapping results!
BMW B58 X37 turbo and MAXD mapping results!
BMW B58 X37 turbo and MAXD mapping results!
520bhp / 616nm at just 1.5 bar!
As we continue our hardware development with the fantastic BMW B58 engine, we consistently see our hardware and software not only reaching, but exceeding our expectations. The aforementioned M140i you see in the photo came to us after having our X37 turbo fitted, and an unknown map. The customer stated that the car felt incredibly laggy, and when pitched against a Stage 2 B58 car (460-465bhp), it couldn't pull away, leaving the owner a little confused and disheartened.
The car featured the following hardware:
Unknown downpipe (de-cat) - You can find our R-Sport downpipes here
BMS Open Intake system
So what did we do?
Naturally we were very keen to drive the car, so we requested the owner bring the car up to us, leave it with us whilst Pumaspeed and MAXD worked their magic to turn this M140i into the ballistic Bavarian missile we all wanted to see! When the car arrived with us at Pumaspeed HQ, a member of the team hopped into the car and took the owner for a test drive.
It became clear after very little driving that the software currently on the car was way below par and whilst it built boost very quickly it didn't perform anywhere near where they're supposed to. Following the test-drive, our customer left the car with us for a number of weeks.
During the weeks that we had the car a base-file was loaded on followed by road logging and testing, then it was time to ship the car over to MAXD HQ for dyno runs, and further revisions and tweaking.
What are the results?
As you can see below, the results speak for themselves, we are seeing an incredibly linear graph which is testament to the turbo and the tuning, ensuring the stock feel of the B58 powertrain is retained, albeit a little more powerful than when it left the factory!
We carried out 3 runs, one with a stock file, the second with 99RON and the third with E30
STOCK FILE (WITH HARDWARE INSTALLED) - 353.7BHP / 483.0NM
MAXD CUSTOM FILE WITH 99RON FUEL - 520.9BHP / 616.1NM
MAXD CUSTOM FILE WITH E85 BLEND (E30) - 540.1BHP / 632.2NM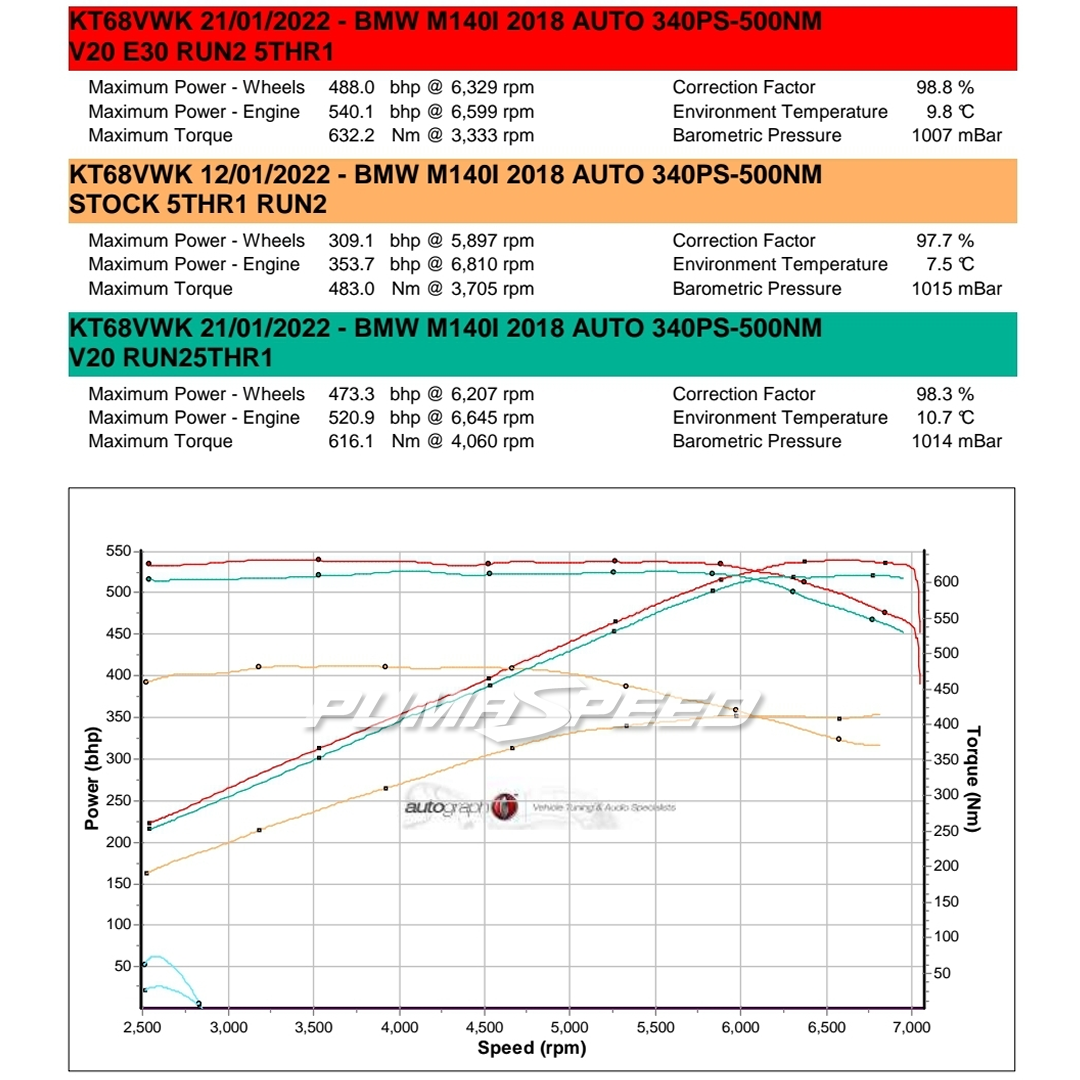 Once we were happy with the way the car performed on the dyno, we brought it back to Pumaspeed HQ and prepared the car for delivery, a month or so has passed since handing the car back over to the customer and we've since received glowing feedback on the tune (and it's now much faster than his brother's Stage 2!) - if you're interested in speaking with us about tuning your B58 car, contact us on support@pumaspeed.co.uk or call us on 01924360260.