You are here: Home | News, Events & Advice | Focus ST Mk4 Track Weapon Stage 2R makes 400+BHP
Focus ST Mk4 Track Weapon Stage 2R makes 400+BHP
The headline says it all... a MAXDout Stage 2R calibrated Focus ST Mk4 has flown past the 400+bhp mark on a incredibly long 15-20 second dyno pull, really putting the car, the hardware and the software through its' paces. It even made up to 414bhp in inertia mode! Which for those that know, only last around 5 or 6 seconds, and doesn't create anywhere near as much heat as a 15-20 second pull would in the real world.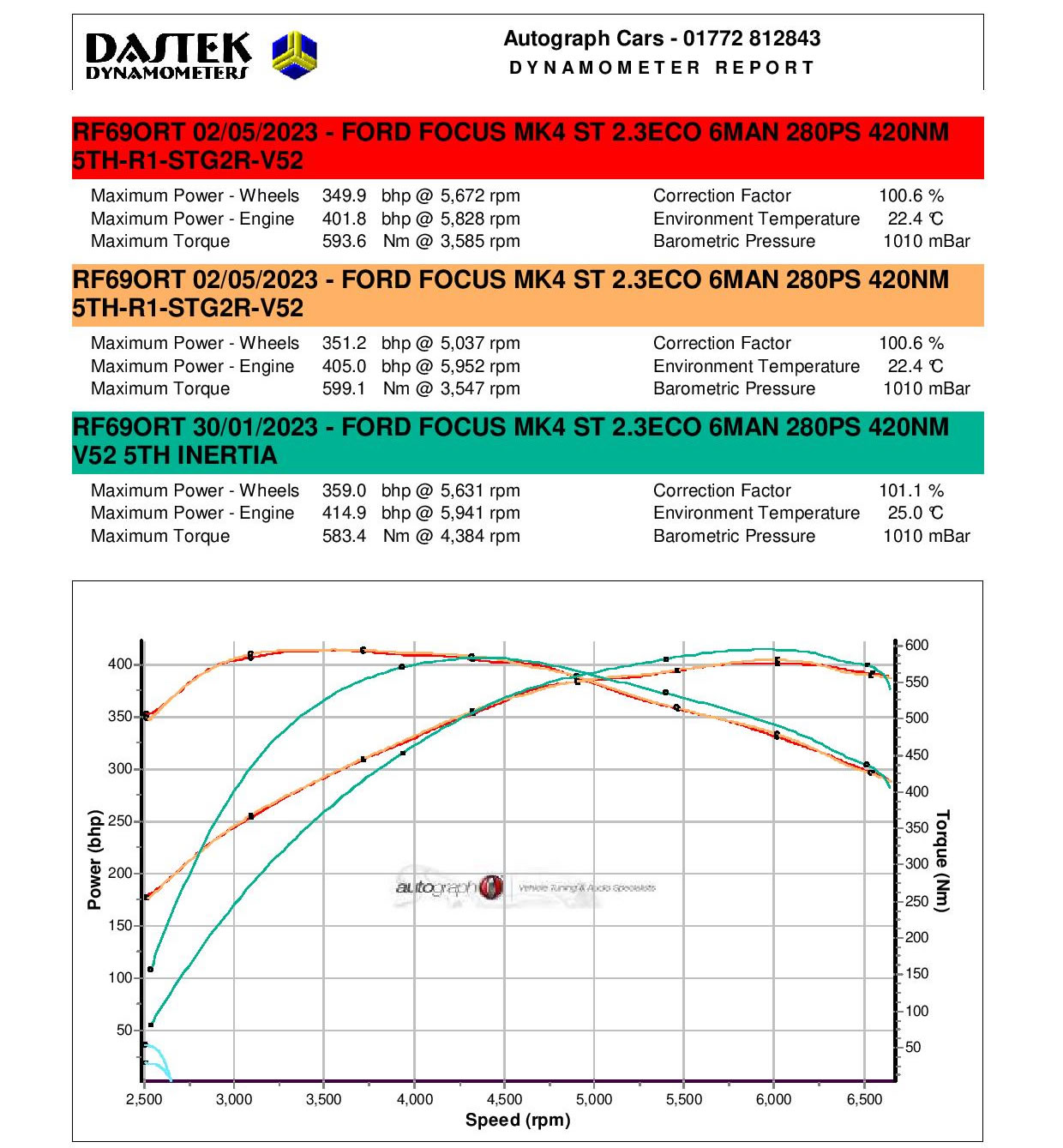 Pumaspeed know from engine strip down experience that the ST Mk4 motor is real step forward from the old 2.3 Focus RS engine.
The turbo is strong and very quick to spool, the intake and exhaust valves are bigger and when tested on a syvecs ECU in a dyno room we found 400+bhp on the stock turbo was no problem. We also found that huge torque numbers approaching 650nm are very easy to extract as low down as 2500revs but that is a problem and WILL break a con rod which is an existing plague for the 2016-2018 Focus RS 2.3 Ecboost engine.

So what have we done to achieve this 400+bhp?
Our own Focus ST Mk3 has undergone a full development schedule from a simple Stage 1 remap, with no bolt-ons, all the way to a best in class Stage 2R 400+ Plus conversion. To fully allow the car to breathe we have installed the following.
Milltek 200 Cell Sport Catalyst
Milltek Catback resonated (Quieter) Exhaust
Milltek GPF Resonated Delete Pipe
Airtec Intercooler
Airtec Full Boost Pipe Kit ( with stock electric DV )
Full MST Induction Kit and Crossover Pipe.
MaxDout Customised Stage 2R Calibration on the Stock Ford OE Turbo (not a Hybrid)

What Boost does it run to achieve this power?
Our dyno datalogs are near perfect, peak boost 1.69bar at 4500, 1.55bar boost at 3000 and 1.5bar at the top end to retain safety
The ignition timing was being automatically lowered above 6400 revs as we kept most all of the Ford protection inside the map, we feel this was due to high intake temps of the Airtec Intercooler and the use of 1 month old Tesco 99 octane fuel.
Can we get more on a stock turbo?
Possibly, yes, is the short answer. The long answer? - Colder temps in winter, colder inlet temps from a better Intercooler and the use of fresh Shell 99 fuel would almost certainly add the extra 1.5 degrees of ignition back in that the protection features removed. This would give an extra lift in power which could net over 410bhp on the right car if it were equipped with a fully open 3 inch exhaust rather than our sports-cat and fully resonated setup.

Can we get more on a Hybrid turbo?
There is absolutley no doubt in our minds that this Focus ST Mk4 Platform can produce more top end power, the Pumaspeed X-37 and X-47 Hybrid turbos are the next step and with theoretical flow limits of over 450bhp we think its only a matter of time before we get somehwere close, but please be mindful we know that the connecting rods are still the weak link and believe that 600nm is the limit

It's taken a lot of testing on track and off track to achieve the reliabilty and to find the limits, and we've found the limit of torque. We know from first hand experience that the engine in the car can produce 645-650nm but this is way too strong for the conrods. So we will not allow any customer car torque numbers past 600nm. As you can see from the graph below you can see a perfect flat and torque capped 600nm