You are here: Home | News, Events & Advice | New Fiesta ST MK8 MAXD 2R Mapping - Up to 275bhp and 400nm
New Fiesta ST MK8 MAXD 2R Mapping - Up to 275bhp and 400nm
Since the launch of the Fiesta ST MK8 in mid 2018, we at Pumaspeed have owned 4 of these fantastic little cars to date with various levels of tunes and products developed over the past 3 years to further enhance this incredible package that Ford have produced out of the box.
The most prominent of our MK8 STs is our orange 'Pumaspeed Performance Edition' ST3, which was first bought in 2019 with the intention of further developing our market leading 1R calibration, however it was soon dropped in at the deep end being our test bed for the 3R package and X37 hybrid turbo producing up to an incredible 305bhp!
With Stage 3R complete, the attention turned back to a stock turbo setup and our 2R calibration which relies on full bolt on hardware.
Our original MAXD Stage 2R software took the market by storm and still to this day is a very popular product, however with what we had learnt from revising Stage 1R and developing Stage 3R, we felt we could make it even better, and improve it even further.
What are the results?
As you can see below, the results speak for themselves, we are seeing a wider and smoother torque curve to give effortless low down punch, making the little 1.5 EcoBoost 3 cylinder engine drive like a much bigger motor. Power is also increased massively over the stock car and we are seeing the stock 200bhp figure at just 3500rpm! Peak power is reached at around 5500rpm but holds until the red line at 6500rpm, meaning wherever you are in the rev range, you have devastating performance.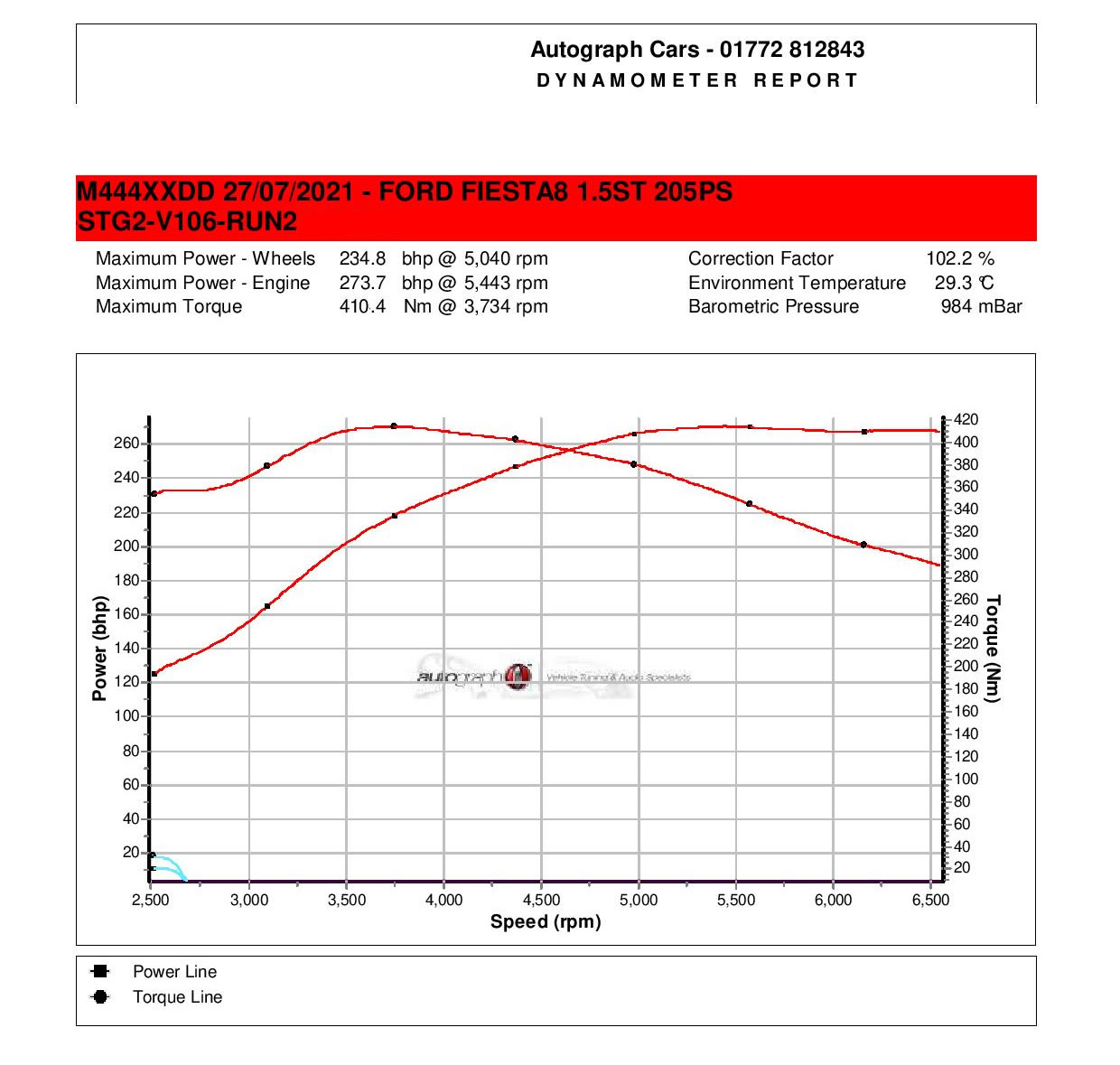 What is the difference between 1R, 2R and 3R?
Whatever your plan or budget is, we have a package to suit you and your MK8 ST
MAXD 1R (Up to 255bhp, 380nm) - Designed to be run on a completely stock car running premium fuel, for the best results we recommend fitment of a GPF back exhaust and better flowing intake.
MAXD 2R (Up to 275bhp, 400nm) - Requires most bolt on hardware including an aftermarket downpipe, GPF delete, intercooler and intake whilst retaining the stock Ford turbocharger.
MAXD 3R (Up to 305bhp, 410nm) - The ultimate Fiesta ST Mk8, with full bolt on modifications included in MAXD 2R, plus our UK manufactured X37 hybrid turbocharger.
What other new features do you have?
A feature we are incredibly proud of is the on the fly map switching available on our range of maps. As far as we're aware this is a world first on the Mk8 ST platform whereby we can actually offer two maps in one with the drive mode button selecting between the two.
By default we offer a milder power and torque map that retains all the OEM eco features in normal mode, perfect for motorway or city driving. At the touch of the drive mode selection button, you will access the sport mode map which gives you full power and torque, a revised overrun and launch control (where fitted) program, and all eco features removed, for your favourite back road or if you simply need that little extra boost!
We have been working on the endless ways to customise your Mk8 ST map, so whether you are looking for a longer overrun, want left foot braking enabled, or simply want to add a GPF delete to your exisiting map, we can offer this and a whole lot more under the range of MAXD bespoke maps.
What's stopping more power and torque?
Early on in the development of Stage 1R, we immediately ran in to a problem with the fuel system fitted to the 1.5 EcoBoost motor. As the turbocharger spools up between 2000-3000rpm, especially in higher gears, we were experiencing a dangerous lack of fuel pressure under full throttle conditions.
Through some clever calibration, and torque capping we managed to get the fuel pressure back under control whilst retaining most of the torque and low down power increase we were looking for.
The downside to this is that maximum torque has to remain capped to keep this issue at bay, therefore we don't believe it to be possible top produce any additional torque from where we are now.
Power on Stage 2R at least is restricted by the stock turbo, it simply can't flow anymore than 275bhp our our dyno, so we believe this to be the upper limit of what's possible, without pushing the turbo beyond it's safe limits.
We do have plans for a larger X47 hybrid turbo coming very soon with up to 320bhp on tap, stay tuned for this one!